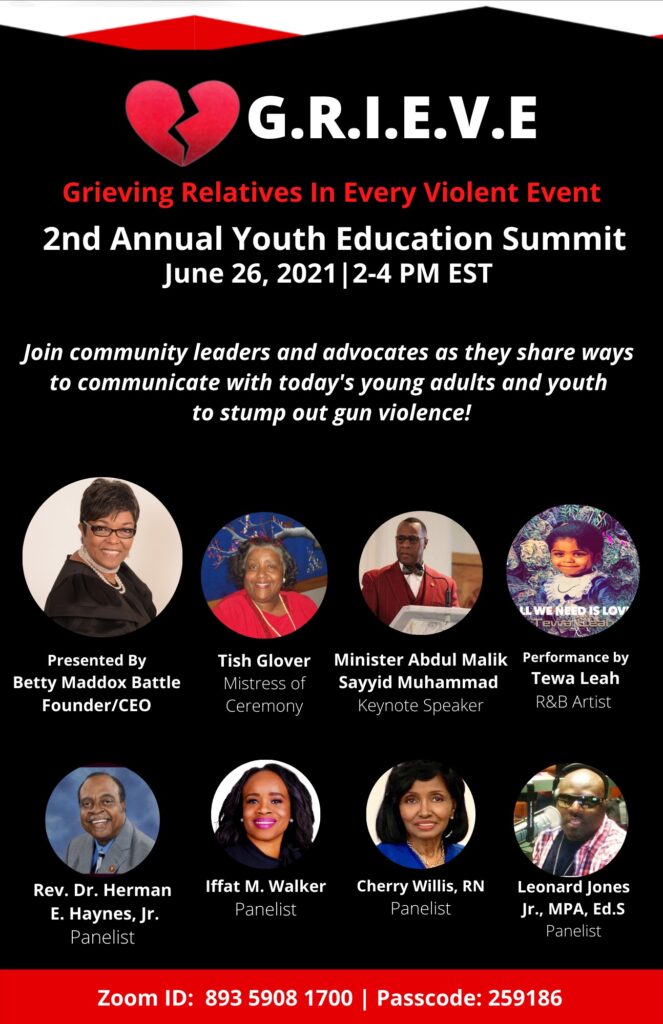 Meet The Speakers & Panelists
Minister Abdul Makik Sayyid Muhammad (Keynote Speaker) Learn More

Minister Abdul Makik Sayyid Muhammad (Brother Tony) is a prominent leader in the black community and an activist for peace and unity. Brother Tony has earned immense respect and support from communities and is highly regarded for his hard work, leadership, and ongoing commitment to the betterment of black communities. Brother Tony's has recently garnered a large group of young followers after successfully was brokering a peace and unity agreement between rival gangs in Los Angeles in 2019.
Betty Maddox Battle (Panelist)
G.R.I.E.V.E Founder/CEO

Mrs. Betty Maddox Battle is a passionate, dedicated, and committed servant for a peaceful and safe community. Through her work in law enforcement and the tragedy that impacted her personal life, she has helped a multitude with healing and finding peace in their lives.

For twenty-five years, she served the community as a Crime Scene Investigator in the Special Investigation Division of the DeKalb County Police Department and five years as a Public Education Specialist with DeKalb County Fire Rescue.
She was also a police recruit for the City of Atlanta Personnel Department. She attended DeKalb Perimeter College, Georgia Public Safety Training Center, The Federal Bureau of Investigation (FBI) Citizen's Academy, and the Rockdale County Sheriff's Citizen's Academy. She worked as
Project Coordinator the Meth-Project Narcotics Division Rockdale County Sheriff's Office.

Although she may appear well prepared for the worst that can happen, nothing could prepare her for the tragic news that her oldest child had been murdered. This was her fate in May of 1993 when her son, Michael Maddox, was shot four times by a sixteen year old.

In response to her devastating loss, Mrs. Battle founded the homicide support group, Grieving Relatives In Every Violent Event (GRIEVE), a grass roots organization responding to the needs and growing interests of the African American community. As founder of GRIEVE, she advocates for the fundamental rights of victims of crimes with compassion, honesty, dignity, and most importantly love.

Mrs. Battle works with individual families, schools, churches, Mosque #15, and other civic groups in fostering non-violence through proven Conflict Resolution methods and educating youth about the consequences of drugs, alcohol, gang and teen violence. Her volunteerism includes serving as Vice President of the DeKalb County Regional Youth Detention Center.

Mrs. Battle was featured in 1993 on NBC Nightly News with Tom Brokaw in a highly profiled case of a drive-by shooting in Atlanta, Georgia, involving a fifteen year old girl who was used as a "Human Shield" during a drug deal gone bad. She has also been instrumental in bringing attention to gun violence and advocating for three pieces of legislation introduced by Congress Henry "Hank" Johnson: H/B 2232, H/B 429, and H/B 1102.

Betty is a member of the Rockdale County Branch NAACP, and a longtime member of Saint Philip African Methodist Episcopal Church. A native of Chattanooga, Tennessee, she the youngest of nine children born to the late
Mr. Tillman and Frances Maddox. She has a son, daughter, and three granddaughters, whom she constantly showers with love.

Mrs. Battle is an inspirational speaker, specializing in coalition work, civil rights, victim's rights, and gun violence prevention. She also counsels youth on the management of stress due to anger, peer pressure, and loss of loved ones, as a result of gun violence.

Mrs. Battle is a humanitarian and a visionary and most importantly, her faith, and belief in the Devine Creator (Allah) God keeps her strong, motivated and focused on this important work. Through it all, her life can be expressed in the words of her favorite scripture: I Corinthians 13:13: "and now these three remain faith, hope, and love. But the greatest of these is love."
Trina Newby (Host)
Business Success Coach, Speaker, Radio Host & Author

Business success coach, speaker, radio host and author Katrina D. Newby (affectionately called "Trina") believes in teaching small business owners how to become "masters in the game of business".

She is the founder and CEO of Women About Biz (WAB), a national business, personal development and social network serving more than 15,000 women monthly for more than a decade. Through Women About Biz, women are able to receive powerful personal development tools, coaching and connect with other businesswomen nation-wide.

In 2009, Trina created the Successful Woman Radio Show, which is broadcasted every Monday at 12 Noon Eastern Time. On the BlogTalk Radio platform, the show is downloaded by thousands of listeners monthly and is a cross between a teleseminar, motivational talk show and radio show making it both entertaining and educational.

Trina has been a featured guest on several television shows including CNN's Business Hour and San Diego Business In Focus. She has also been featured in a number of publications including Entrepreneur Magazine and has written several workbooks and guides giving sound instruction and inspiring individuals to start and grow their businesses properly. Her most popular works include: "Social Networking 101 for Women", "Time Management for Business Women", "Turning Your Ideas Into Profit", and "Women About Biz Startup Guide to Success" to name a few.

She has conducted workshops and seminars for the US Military (Navy), Small Business Administration, Small Business Development Centers and is also greatly involved in business women's issues throughout the United States and serves on several boards and volunteer projects.
Leonard Jones Jr. MPA, Ed.S (Panelist)
Educator, Activist, Comedian, Radio Host, and National Spokesperson for New Order National Human Rights Organization

Dedicated to any and all causes that fight injustice, Leonard is an absolute social conservative without apology. He is a community advocate and leader within the civil rights community as well as a court appointed advocate for children, and former President of the Atlanta Chapter of the National Action Network, Inc.

Leonard enjoys the freedom of the Hip Hop Culture with an emphasis on freedom of speech and its ability to influence the political environment. To support his pursuits, Len has acquired a B.S. in Urban Policy Studies, Master of Public Administration (MPA), and a Specialist degree in Education Leadership (Ed.S). Guided by spiritual communion and a will to do the right thing, Leonard would sum his personality up in his motto, "I laugh, joke, and have fun, but I do not play!"

Learn more about the New Order National Human Rights Organization
Cherry Willis, RN BSN (Panelist)

I have been an RN since 1977. My life goal has been helping people to live the healthiest lifestyle possible and ride my community of health disparities. I worked in a level one Trauma Center (hospital) in Metro Atlanta for 17 years. First as a staff nurse then as a Charge Nurse and finally as a Clinical Manager (Head Nurse). I worked as a Case Manager in the Home Health Industry. I also worked in the DeKalb County Jail System and the Georgia Prison System for a combined total of four years. I transferred to Case Management and Disease Management in 2004 and continued my nursing career path until I retired in 2018.
I continue to hold an active RN License and work in the DeKalb County Community in which I live.
Education: DeKalb Community College (currently part of Georgia State University System). Chamberlain College of Nursing. I hold an Associate of Science Nursing (AND) and a Bachelor Degree in Nursing (BSN).
Organization Affiliation: American Nursing Association, Georgia Nursing Association. Chi Eta Phi Sorority Inc. Professional Nursing Association. National Association for the Advancement of Colored People (NAACP) Served as Health Committee Chair for 17 years and is currently serving on the Executive Committee of the NAACP DeKalb Co Branch. Operation Lead, LLC. and G.R.I.V.E. I have been a member of the CIPAC (Citizen's Advisory Committee representing District 3. I am Commissioner Larry Johnson's appointee monitoring the Consent Decree since 2011.
It is my pleasure to continue to represent my community and promote healthy lifestyles.
Rev. Dr. Herman E. Haynes, Jr. (Panelist)

Rev. Dr. Herman E. Haynes, Jr. has served on the Ministerial Staff at Greater Piney Grove Baptist Church as Staff Pastor in charge of all issues and ministries pertaining to Congregational Care and Counseling since 1999, under the leadership of Senior Pastor Dr. William E. Flippin, Sr.


In addition to his ministerial experience, Rev. Dr. Haynes has over 40 years of experience in Counseling, Supervision and Management to include the Mental Health arena. Rev. Dr. Haynes is certified as a Mental Health First Aid Instructor through Mental Health First Aid USA, which is a part of the National Council for Community Behavioral Healthcare. He serves also as co-chairman for the Faith-based Mental Health Initiative which is a multi-denominational faith-based organization committed to educating the African American Community in particular in the area of mental health. Rev. Dr. Haynes has served on several mental health related panels and has a passion for helping the faith-based community become better aware of mental health related issues and better understanding the relationship between Mind, Body, and Soul. Recently Dr. Haynes was invited to serve on a virtual zoom call with Us Surgeon Jerome Adams along with other clergy leaders from a variety of faith traditions to discuss the medical and mental health disparities existing withing the African American Communities.

Academically, Rev. Dr. Haynes earned both a Bachelor's degree in Psychology and a Master's in Counseling & Human Systems from Florida State University in Tallahassee, Florida. He also attended New Orleans Baptist Theological Seminary and graduated with Honors (Cum Laude) from Emory University's Candler School of Theology, where he earned a Master of Divinity degree. Rev. Dr. Haynes continued to pursue a terminal degree in theology wherein God has blessed him to earn a Doctorate of Ministry Degree (Magna Cum Laude) in the field of Pastoral Care & Counseling from Columbia Theological Seminary.

In addition to his responsibilities as Staff Pastor, Rev. Dr. Haynes has served as a Chaplain in Prison/Jail Ministry ,and has been Commissioned as a City of Police Chaplain as well as a Dekalb County Police Chaplain. He is registered with Georgia's Office of Dispute Resolution as a Certified Conflict Mediator and Arbitrator, which affords him the opportunity to travel around the country helping to resolve a variety of disputes in many different federal, state, local, religious, and private venues. He has successfully facilitated over three thousand (4500) disputes—"Blessed are the Peacemakers"— Rev. Dr. Haynes loves People and God has gifted him in the area of Care & Counseling, Mental Health and Conflict Transformation.
Iffat M. Walker (Panelist)

Iffat M. Walker is the Founder and Executive Director of Community Action NOW! (C.A.N.). Since 2014, her dedicated efforts have provided assistance to tens of thousands of people around the world.

A native of St. Thomas and current E. metro Atlanta resident, Iffat boasts deep ties to the primary communities she serves. C.A.N. clients are not merely customers or statistics—to her, they are fellow islanders and Georgian neighbors. From disaster relief to workforce development and youth outreach, Iffat works tirelessly to support disadvantaged populations and restore hope for a brighter future.

When she's not advocating for change in the nonprofit sector, Iffat is running her business, Unbounded, LLC., a virtual accounting, tax, bookkeeping, payroll and consulting firm specializing in solutions for micro-businesses, philanthropic organizations and entrepreneurs. She is the author of "Fix Your Damn Credit," a step-by-step guide to understanding and mastering the credit system. She currently serves as Executive Member and Treasurer of Atlanta's Fulton Pre-Arrest Diversion Board, Board Member of Rockdale County Board of Adjustments, Finance Committee Member of Sister Love, Inc., and Advisory Board Member of Georgia Piedmont Technical College. Iffat holds a Bachelor of Science in Technical Management and a Master of Accounting & Financial Management.

In her limited free time, Iffat can be found spoiling her two Chihuahuas, spending time with her sons AJ and Dre and going on camping trips with her family. Iffat is currently a political candidate for Rockdale County, Post 2 Commissioner.
https://vimeo.com/user143093671
Support G.R.I.E.V.E's "All We Need Is Love" Fundraiser
G.R.I.E.V.E partnered with R&B Artist Tewa Leah to raise funding for our Youth Education Summit, Programs , & General Operations.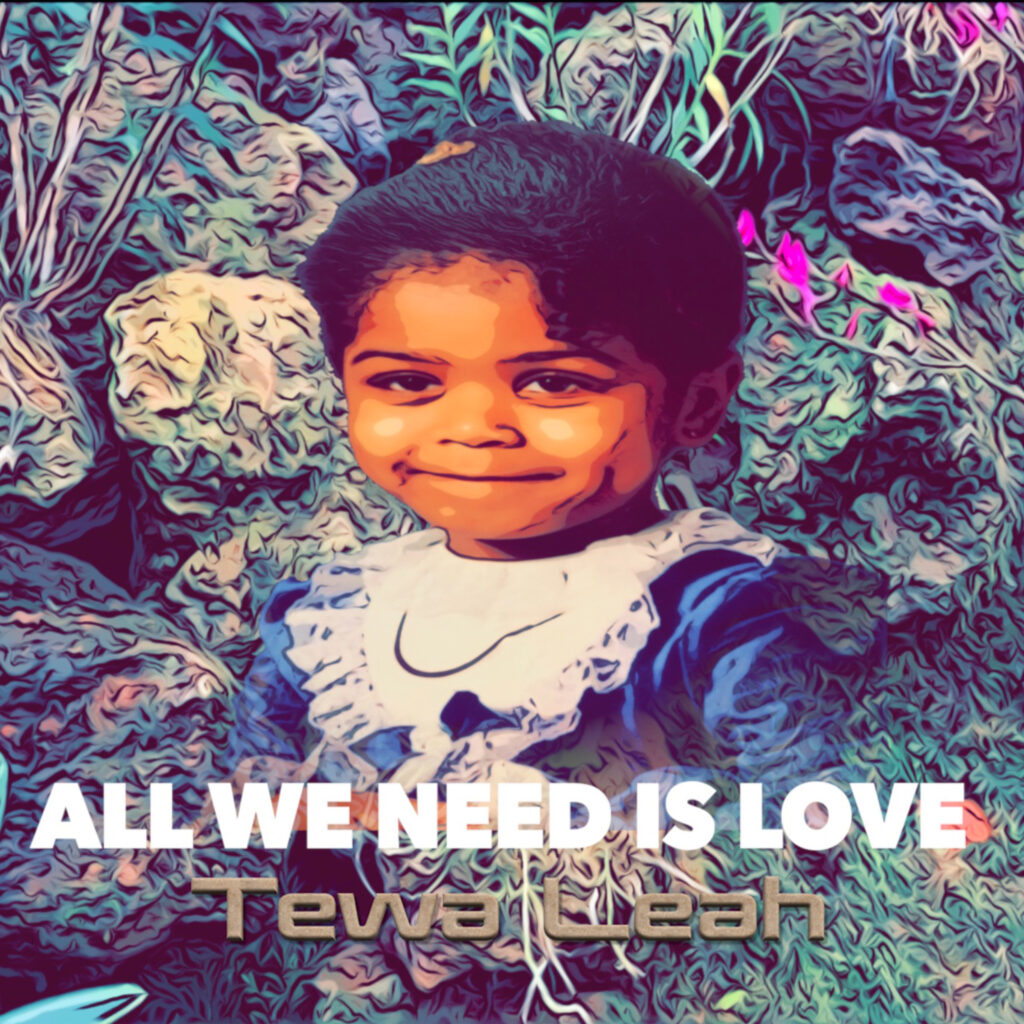 Learn more about Tewa Leah at www.TewaLeah.com
Become A Sponsor for the 2021 Youth Education Summit
Sponsors packages include promotion throughout the event, are featured in official press release, & included in Social Media promotions